So you just got engaged to the man of your dreams, CONGRATULATIONS! You're happy, excited, you hop on to Pinterest and start pinning your favorite dresses and hairstyles. You are literally so overjoyed you could…wait. You go in hyperventilation mode. "I don't know what kind of dress I want! How do I pick a makeup artist?? Omg my skin looks HORRIBLE!!! I DON'T HAVE ENOUGH TIME TO DO IT ALL!!" You can feel your inner bridezilla awakening.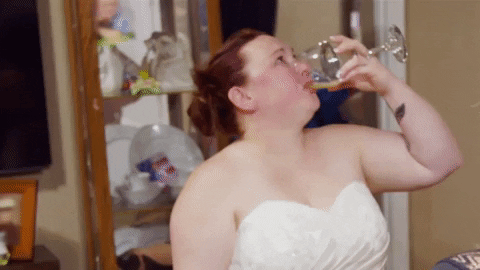 Look, I get it. Being a new bride I can tell you I was definitely THAT bride (a.k.a The Bridezilla) and let me tell you something, there is no shame in being one. Wedding preparation is stressful and it gets to you. Here are a few things I wish someone had told me when I was a bride to be:
1) The B-Word: Budget!
This is a conversation I highly suggest you have with your family and your other half. Discuss what kind of wedding you should have and how much you can afford. If you want a big fairytale wedding and can fork out the money for it, that's awesome! But if that's not your thing and you'd much rather save for a nicer honeymoon, there's plenty of things you can cut back on to save you some cash. Combining different events (Mehndi + Shadi = Shendi, or Shadi + Walima = Shalima in Pakistan weddings). This way, you save money on food, venue, décor, and dresses!
2) Prioritize
Once the budget is set, prioritize everything in your list on a scale of 1-10, 1 being 'Spend least' and 10 being 'Spend most'. Everything needs to fall somewhere on this scale. This will give you a clearer vision on what is most important to you. My scale looked something like this
Shopping for essentials
Venue
Catering
Wedding Dress
Photographer
Decor
Self-care
Makeup Artist
Luxuries
Post wedding outfits
3) Start planning early!
My engagement lasted 2 years, and the biggest mistake I made was that I didn't start planning soon enough, I started barely 3 months before the wedding (BAD idea!). Needless to say, I was overwhelmed. The time crunch made me hazy all the time and second guess everything! So please, for the sake of your sanity, start planning as soon as you get engaged. (Don't listen to your mom when she says there's plenty of time left. NO THERE ISN'T MOM)
4) Self-care
Other than sheer joy, makeup is not all it takes to look glowy on your big day. A clean canvas is important for flawless makeup application, so make sure you have a good skin and hair care routine set up months before the big day! Trust me, your makeup artist will thank you!
Tip: Pixi Glow Tonic changed my skin!
5) Makeup artists (Do your own makeup!)
Finding a makeup artist was one of the hardest parts for me. I am very particular about how my makeup is done. My number 1 advice is if you're good at makeup and are confident with it, do it yourself! Not only will you save lots of money, you can also do multiple trials before the wedding to see what look you really like AND keep the products afterwards!
               If you do however end up going to a makeup artist, I highly suggest taking a makeup bag full of your favorite products with you. My makeup artist was not very good at listening to what I wanted, and because I had my makeup with me, I was able to make fixes.
6) Photographers
Photographs last FOREVER! I still look at my parent's wedding album from time to time and it always leaves me in awe. Picking a photographer is a little tricky, you need to make sure you see eye to eye on how the photos are executed, the kind of equipment they use, creativity, editing, etc. Go on Facebook and Instagram to shortlist a bunch of photographers and start contacting them for quotes. Negotiate with your favorites and meet them to discuss the finer details.
Now I know a sometimes desi brides are too shy to really enjoy their photoshoot, but trust me when I say this, if you're not having fun with your shoots it WILL show in the pictures! So try to have as much fun as you can. Smile, laugh, its your big day and that smile needs to be in the spotlight!
 Pro Tip: If you have an expensive venue, try to avoid telling the contractors about it to avoid getting overcharged
7) Venue
There's a few things you need to keep in mind when booking a venue. Is there enough parking space for all your guest? Are the servers polite? Is the lighting good for photography? Ask your photographers for recommendations too, they will most likely know places with great lighting!
8) Stress Management
In the midst of it all, don't forget the most important part of the wedding; YOU. I can't emphasize how important it is to put everything on Pause every now and then and DEEP BREATH. Spend some time away from wedding preparations doing things you love. Bake a cake, paint, write, or just curl up in bed with your favorite snacks for some Netflix & chill! Some of my favorite shows to watch are Friends, Once upon a time, The 100, Good Girls, and Shadowhunters.
9) Family time
It is easy to lose track of time when you're planning a wedding, and neglect loved ones. Make sure to spend time with your parents and let them know how much you appreciate everything they've done for you. Ask your mom to make you some biryani because you will miss it once you're married ☹
10) Travel
One of the best decisions I made was to travel before the wedding, and I will be forever grateful for being able to do so! Being out of your element and in a different country is a great way to clear your head before you start your new life. Make it a girl's trip, or go solo! I went to Georgia with my best friend, and I will always cherish the memories we made during that trip. It was such a great trip, I made a whole blog post about why you need to do it!
I hope this was helpful for all the bride-to-be's ! Wedding planning is stressful so if you want to talk about it, tell me all about it in the comments!
Stay as you are,
Fatima