Happy Thursday! Its almost the weekend here in Dubai, lets power through one last work day before movie night begins!
I'm totally kicking myself for falling out of the momentum I had going with my Georgia posts, it takes so much longer to remember the little details and memories when too much time has passed. Luckily, I have a ton of pictures to take me back to Tbilisi! The fact that this trip was right before my wedding, and my first one with my best friend made it so special.
Home to the beautiful Caucasus mountains, Georgia is a tiny little country right in the middle of Asia and Europe, next to Russia, Azerbaijan, and Armenia. Its capital is Tbilisi, where we spent most of our time. If you're considering a trip to this underrated gem, here are some things you should know.
First up, lets talk about what to pack.
Tbilisi is a cold place most of the year, so it would be wise to pack some warm clothes. Especially if you're used to the Dubai heat like I am! If you want to visit when its warmer, consider going around June – August.
You wanna pack a pair of comfy shoes so you can really explore the city on foot. Walking to places whenever possible made our trip so much fun, we discovered so many mini markets, street performances, and met some amazing people along the way!
If you're into nightlife, and plan on hitting up a club, a pair of heels wouldn't hurt.
A backpack that can hold all of your daily essentials.
Spare camera batteries, spare SD Card, and a powerbank.
What about Visa?:
Georgia offers Visa on Arrival for GCC citizens.
Here is a list of other countries whose citizens may enter Georgia without a Visa, and in case your country isn't on the list, here's a link to the E-Visa portal.
Is it safe?:
Tbilisi is a fairly safe place to go to. We spent most nights out and about and never felt threatened. That being said, safety precautions should always be taken when traveling! Avoid carrying around large amounts of money or looking extremely flashy. As long as you practice common sense, stay out of dark, empty places, you'll be fine. There are cops at almost every corner of the street. We even saw some patrolling grocery stores, which was a little odd.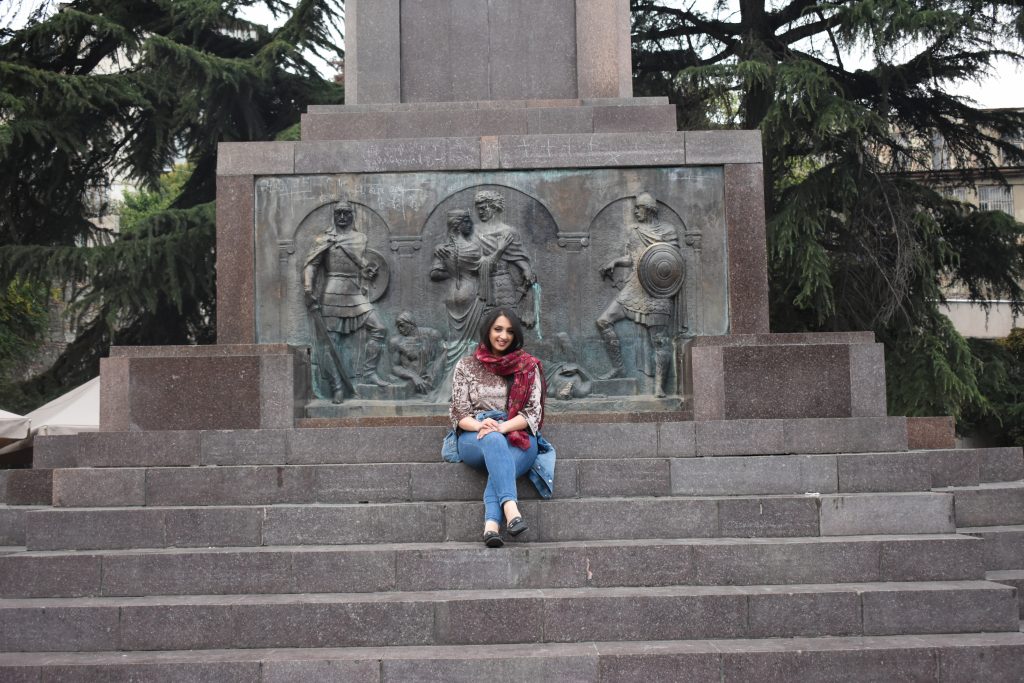 Where to stay?
We spent 6 days and 5 nights in Tbilisi at a cozy little Airbnb in Rustaveli Avenue. Since me and Hiba are both budget travelers, we knew we wanted to save on accommodation so we have more to spend on activities, and I'm so happy we did that! If you're not an Airbnb person, there's plenty of other options to pick from. There are lots of nice hotels in Tbilisi, including a Marriott Hotel, if you don't mind paying a pretty penny. If you're looking for an even cheaper option, there are countless hostels to choose from!
Rustaveli is in the heart of Tbilisi, with a mix of medieval and modern architecture, and is home to several cafes, shops, restaurants , and many outdoor exhibitions and performances. A night out on the streets was never dull, we always found some form of entertainment!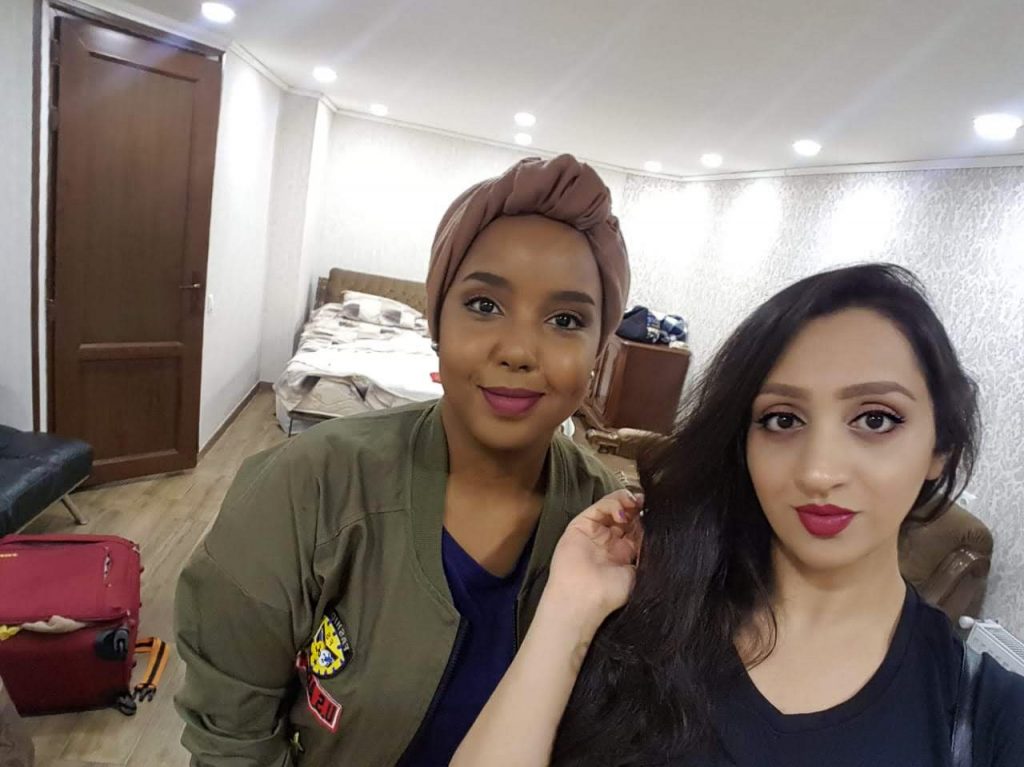 How to get around?
Although local taxis are easy to find around Tbilisi, it seemed to me that they were completely unregulated. There are not metered, so you need to negotiate the fare before getting in. Instead, I would recommend using the app Taxify, which is like Uber, but way cheaper!
Local food: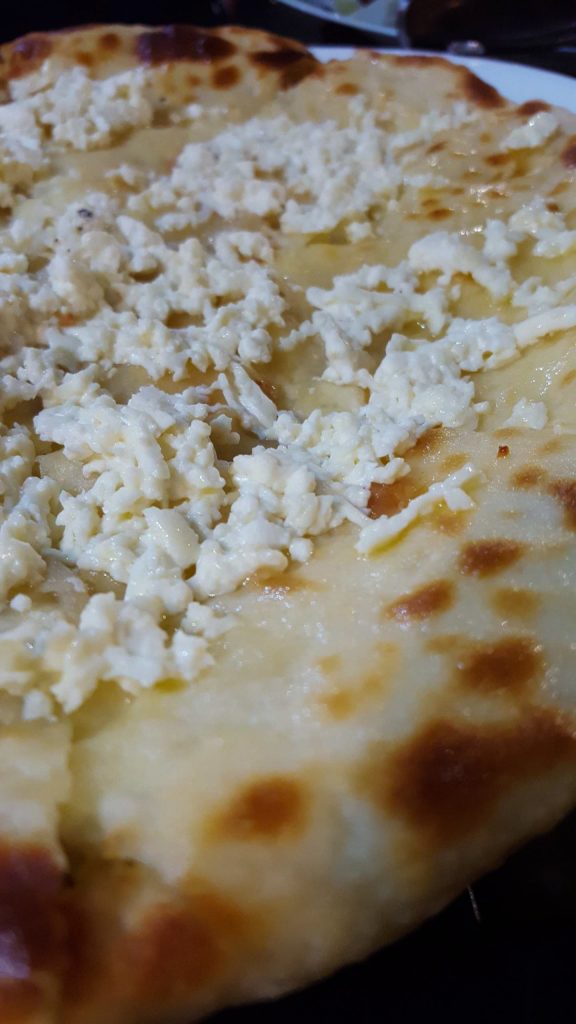 Before flying in, we were a little nervous about the food situation. From our research, Georgian food seemed very pork heavy, and since neither of us eat pork, we were a little skeptical of our food options. My mom even made me pack instant noodles for moments of desperation lol! BUT I'm happy to report we had no trouble finding Halal options.
Not only were most restaurants super accommodating, and happy to help us find pork-free options, but EVERYTHING we ate there was delicious! I'm not even kidding, we didn't have one bad meal there!
My absolute favorite was Khachapuri, a cheese bread that came in a number of shapes and sizes, sometimes even topped with an egg! (Cheese, good. Egg, Good. Bread, GOOD!). No two khachapuris look the same, but they all tasted delicious, I wouldn't recommend missing out! It became out staple breakfast thanks to a sweet old lady right next door to our Airbnb baked fresh Khachapuri every morning <3
Some Georgian words I picked up along the way:
Hello – Gamarjoba
Yes – Diakh/Kho
No – Ara
Thank You – Gmadlob!
Bye – Nakhvamdis
And you know me, I had to learn some cuss words in case I caught someone swearing at me lololol
Dick – Q'leo
Fuck off – Gaajvi
Fun Fact: I did get sworn at by a homeless person when I refused to give her money because I didn't have any change (:
I hope this helps you plan your Georgia trip better! If you have any questions, feel free to get in touch via the Contact page. I will be happy to help! I'll be posting my complete trip Itinerary for 8 days soon, so keep an eye out for that!!
Until then,
Nakhvamdis!